I think it's fair to say that the lake did not fish as well as it has done previously in 2015.

Match weights were well down and carp returns were also down, both declining as the year went on. Personally I think my catch was down about 50% numbers-wise on previous years, although far from scientific as I fish for inconsistent amounts of time. It's fair to say catches of double-figure fish were well down during the year. I believe that most of the old doubles are now gone, lost to the otter and old age. Hopefully the fence is keeping us safe from the otter now and so we have re-stocked. 30 of the lads chipped in £40 each to buy 2 twenty pound fish at no cost to the club.
These came from Front Fish and came on 1st December 2015, 2 perfect linears weighing 21-06 and 21-08. I think that everyone that turned up to see them stocked went away happy. They avoided capture in December and January (Which I'm glad about as this will help them settle in and hopefully limit any weight-loss) so should be well settled for next season – as of today they still haven't been caught! I went out in the boat at the end of February and completely walked both islands and there was nothing untoward so the fence is looking good. I know of 2 waters in the vicinity that are currently losing fish so the otters are still very active in the area. Hopefully now our lake and next door are both securely fenced, they will leave us alone.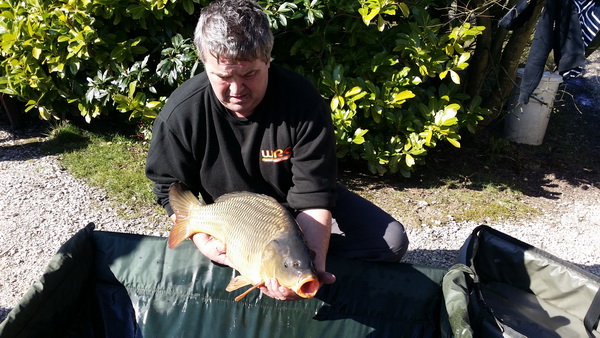 The condition of the fish being caught currently is fantastic. This time last year they were thin and numerous fish were displaying body sores and so I'm very pleased that the removal of small fish in January 2015 and increased feed in Winter 2015 has seen the fish thrive. The carp are all looking solid and developing bellies, the roach and bream I've seen are growing and look healthy rather than malnourished. This was the point of the silver fish netting, to remove surplus fish leaving the quality and improve the average size and condition of everything remaining. We have fed more than previously this Winter, feeding both pellet and cut maize. The fish have really benefitted from this with some really plump, good-conditioned carp being caught – totally transformed from this time last year when their condition was very poor. Obviously it's not just the carp that benefit and some nice plump skimmers and roach well over a pound have already shown this season. I was stunned at the pictures of some of the carp caught recently with real bellies on them for the first time ever. One fish was caught at 13-00 in October and again in March at 13-12, not at all bad over the winter months when previously they have gone backwards and putting them in a really good position to go forward now it's warming up.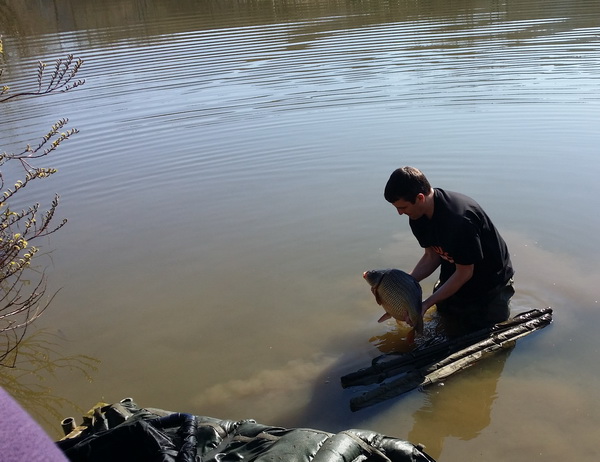 I arranged some carp of mixed sizes from my friend Mark Walsingham at Ashmead fishery in Somerset which should mean we are back to having a decent head of carp which seems to be currently lacking – my personal opinion is that the otter had 70% of our carp, looking at photo's of the bigger fish it is the same handful getting caught. These fish are a mix of sizes, mainly high singles and a few doubles and are a superb pedigree with many doing 30lbs plus in their Somerset home. They were all commons with a great frame, deep bodied with high shoulders.

These are 3 and 4 year old fish so should provide us with many years of service. Neil from Front fish agreed to transport them for us and a large crowd awaited their arrival on 17th March. They weren't disappointed with some real beauties delivered. Everyone was very impressed with these fish which are obviously destined to be big fish if they get enough feed.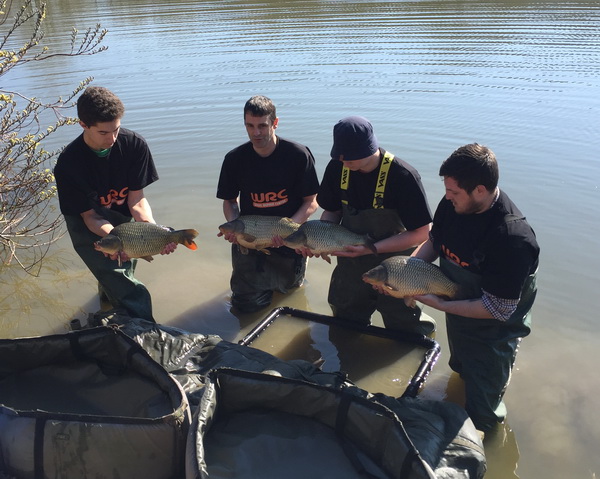 We also stocked 100 C1 carp (Born Summer 2015) into the kidney which were bred at the college. Although well under a year old they were a decent size and some of the fliers were already 8 inches long. We are also looking to stock further tench into the new pond at Wild Boar. We've invested time and money into this pond in 2015 so give it a go and see how you get on. It fished slowly last year but the additional crucians should liven it up and with more tench to follow the fishing should pick up. We are looking to hold 2 matches on wild boar in 2016 – a 2-legger fishing 1 leg on each pond and combining the totals – should be interesting and I'll be giving it a go. The big question now is do we go to the trouble and expense of otter fencing these ponds – otters are becoming more and more prevalent and by the time you realise they're there then it's too late. Hudsons which is just up the road has just felt the need to fence.

We have stocked 9 crucians into the stock pond to breed. This pond was drained and de-silted this year. It has been limed and will be fertilised in Spring to maximise it's potential as a nursery. Hopefully we can crop a few hundred crucians in 2017 for the main lake.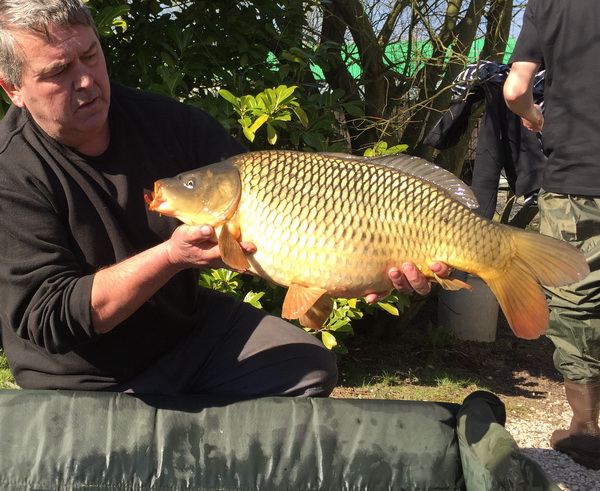 As treasurer the clubs finances are of obvious interest to me. Last year the club cost about £12,000 to run for the year. The main costs being nearly £7,000 for rents and £3,000 for stock fish. Membership fees raised just £4,800 and so the Committee agreed to a price increase. Hassra pay the rent for Franks pool which reduces our outgoings considerably and they are committed to do so for the remainder of this lease period. This will enable us to keep stocking as appropriate to improve the fishing for everyone. This year we will be funding a large number of tench for the main lake and wild boar 2. The carp stocks have been topped up to replace the large number lost to the otter, we are a few quality fish short but once they are stocked then we should be right for years to come. A number of carp anglers including myself have blanked last year and that used to be an exceptional occurrence, demonstrating how many fish the otter took.

Those of you that have renewed will have seen the improvement in the membership cards and car park passes this year. These have been sponsored by Tony Abram at Millers Taxi's and cost the club nothing and are a real improvement on previous years. So thanks to Tony for that. Thanks also to Kev Monaghan who sponsored the largest of the Ashmead carp that was delivered (15lb 8oz) – a real cracker that I look forward to catching in the future.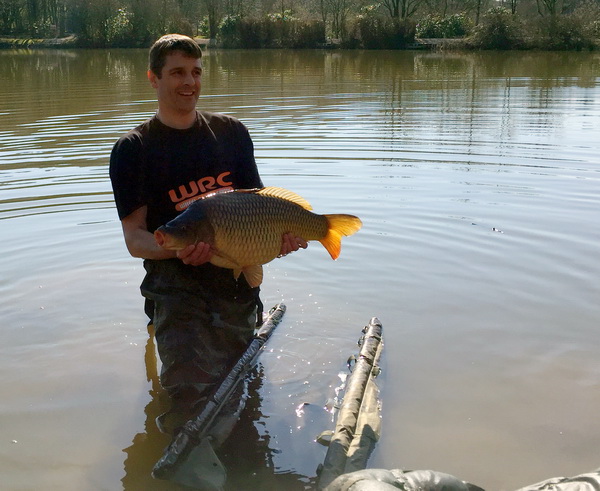 Renewals are being dealt with very efficiently by Alan Bellwood, usually being completed and despatched on the day of receipt – well done Alan. Alan takes the minutes of the committee meetings and these are published on the website to keep members informed of our plans. The website has now had over 15800 hits – please send any pictures or articles to Paul King for publication as the more that are submitted the better the site.

I'm hoping for a big improvement in match weights this year and the carp fishing HAS to improve with what has been stocked. I'm also hoping to see a 2lb roach and 3lb perch from the water – true specimens.

Tight lines.
Simon Hoare
March 2016